Location
Düsseldorf is a well-known financial and administrative center, as well as being the state capital of North-Rhine-Westphalia. The city is a popular shopping destination with many exclusive and interesting stores, and it boasts some of the best nightlife in Germany.
The best-known street in Düsseldorf is the Königsallee. It stretches along the length of a canal and has a wonderful atmosphere. The street also hosts one Germany's first skyscrapers, the Wilhelm-Marx-Haus, which was built in 1920; as well as the art-nouveau Kaufhof-Haus.
The Düsseldorf Stadttor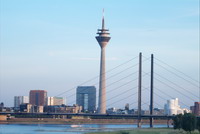 The Düsseldorf Stadttor sstands directly on the Rheinufertunnel and thus from the south as well as perceived by all bridges over the Rhine and the majority of the city as a symbolic target.
The Düsseldorf Stadttor is easily reached with S-Bahn, trams and buses of the public transport and by car only 15 minutes from the airport and only about 5 – 10 minutes away from the main motorway junctions.
The only 800 meters from Old Town and Königsallee are easy to reach even for pedestrians and cyclists. In the immediate vicinity of the building there are numerous restaurants, shops, the Rhine promenade, Citizens Park, the Rhine meadows and the marina.