Building
The Düsseldorf Stadttor is a symbiosis of the elements glass, steel, wood and stone; the combination of these elements gives a new quality of sleekness and elegance, transparency and a feel for form.
The Düsseldorf Stadttor redefined the symbolic gate form:
The solitary building encourages the creativity and openness of the 1000 people working there through powerful and non-conformist architecture.
The interplay between the architecture and the workers' performance has been thoroughly studied: Motivation and teamwork require open, modern workspaces.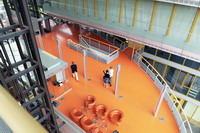 Anyone solving unique puzzles needs to be in surroundings that open perspectives, enhance creativity and excite the spirit. The Düsseldorf Stadttor offers the perfect atmosphere for this.
In the design, the original materials join together to make the whole. Steel columns, as thick as pipelines have intentionally been left visible. They cross through the rooms on the floors that they support, their natural surface showing.
Their presence is balanced by the finer design points, such as beech window frames and detailed lights, designed specifically for the Stadttor.
MIPIM Awards 1996
The Düsseldorf Stadttor's unique status has been confirmed by international experts:
At the MIPIM – the largest architecture and real estate exhibition in the world – the Stadttor received the MIPIM Award for the best office building and the Jury Prize for the best building.
Interesting pages: