Facade
The Stadttor raises the bar when it comes to energy-saving construction, thanks to its intelligent combination of new technologies.
The building's facade is made of an external shell made entirely of glass, and an inner facade that uses beech-wood elements. The outer facade follows the clear principal of "Structural Glazing".
The inner facade, made of ceiling-high, partially closed, partially pivoted windows are made of natural European beech, made into multiplex plywood.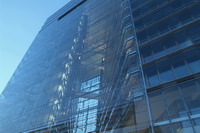 Both of these layers are separated by 1.40-meter-wide walkable balconies that are also used as air vents and as a "temperature cushion".
The configuration and dimensions of these elements were calculated using large-scale simulations at the Fraunhofer Institute and wind tunnel experiments.
These trials were also used to determine the sun-protection in the area between facades.
With regard to wind flow, all components were constructed in such a way that even the slowest wind speeds guarantee ventilation.
A 16-month-long, on-location, scale trial ensured the safety of this innovative and ecologically futuristic facade, before it was incorporated into the Düsseldorf Stadttor.
The facade ensures that offices are provided with natural, healthy air throughout the year.
Interesting pages: