Areas
The Stadttor has approx. 27,000 m² of office space, spread over three attic and fifteen regular floors.
The fifteen floors on the east and west columns each have approx. 780 m² of space.
The three attic floors have an area of approx. 2200 m². Additionally, the Stadttor also has shopping and gastronomy areas, as well as archive space.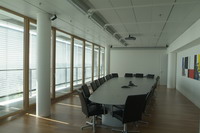 The thing that makes the office floors so special is how much they can be varied. Having as few fixed walls as possible means that the layout is variable.
High-quality, flexible partitions and intelligent in-house technology allow users to alter their floors in accordance with their needs, even during ongoing operations and without unreasonable disruption.
Search for rental space in the Stadttor?
Call us at 0049 – 211 – 6000 6000.
Data an facts
Floor space
Office space total: approx. 27,000 m²
Office space per attic floor: approx. 2,200 m²
Office space per regular floor: 2 x approx. 780 m²
Storage and archive floor: approx. 1,200 m²
Service Center: 1,200 m²
Layout: adjustable with system partitioning walls
Interesting pages: